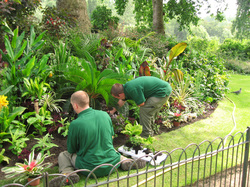 To Flourish, Every Relationship
Needs Cultivation, Weeding, and
Fences ....with Doors that Open
YOU CAN GROW TOGETHER AGAIN
Do you think your marriage is hopeless? Do you believe divorce will make you happier? Divorce provides a geographic change and few solutions.
The emotional, spiritual, physical and financial costs are enormous; the benefits are few for anyone except the those paid to take your case before a judge.
There is a huge industry out there who benefit by splitting up marriages. It is vast, powerful and self-protecting. The Judicial System no longer protects families.
Instead parents and children suffer with intrusive judicial orders by judges and attorneys who know little about the heart of the family.
If you are thinking that a "new" marriage will be any better, take care. Divorce rates for subsequent marriages are beyond gloomy: 67% of second marriages and a whopping 74% of third marriages end in divorce.
Do you really want to make your arguments public in court or do you want to heal? Isn't time for a new beginning. Your spouse is meant to be your best friend and can become your best friend. With new skills and some internal grit you can build a new "house" together. A Culture of Divorce Society has lied to us about marriage and divorce. Divorce hurts us and forever wounds our children. Married people are healthier, happier, live longer and are better off financially than their single counterparts.[1] Children of intact marriages are way ahead of their peers in education, financial and personal security, health, emotional serenity and religious devotion.[2] Every friendship takes work but nothing can compare with true friendship between husband and wife. Spouses are meant to grow a marriage together. Although of equal dignity they are not meant to be carbon copies. Thus each spouse needs to discern his and her own individual gifts, charisms and vocations. Healthy spousal communication does not just happen; but it can be learned and enhanced. Playfulness and joy can be cultivated. Conflict need not be feared; it is the very stuff that enriches intimacy provided you are willing to enter into conflict in new and healthy ways. You do not have to become a bully or a doormat to save your marriage. Rather, you have to find out who you are, who your spouse is, and how you can grow stronger together and individually. This takes a bit of self-scrutiny to discern why you have become unhappy -- the real causes. It takes a bit of listening so that you hear what the other is trying to say, not what you expect him or her to say. It takes living a life with mindfulness and making choices on purpose instead of drifting from one argument or problem to another.

---------------------------------------------------------------------------------------------------------------------------------------------------------------------------------------------------------------------------------


HOW TO CONTACT US

Please note: If you are having an emergency and time is of the essence, please start your email with that information and we will give your response our priority attention.

Tell us something about your situation, or leave a telephone number where we can reach you. Our programs are not for everyone. However, even if we cannot help you, we will try to give you some other suggestions. The important point here is: Do not stop looking for help. We all need to keep growing in wisdom and grace. Every relationship needs prayer, faith and reason. Every relationhip needs help at various stages of our lives. Help is available in many forms. You can request to set up a telephone conference with a Mediator to see if we can be of help.

We offer both local and long-distance programs throughout the globe. So if you cannot come in person, consider telephone sessions via long distance. Sometimes that is possible. Other clients who are not local opt to fly in or drive to us and then to supplement with telephone conferences.

God bless you and don't give up!

The Marriage and Family Recovery Programs, INC
Telephone: (833)-2-TO-HEAL or (833)-286-4325
Facsimile: (703) 637-1308
4000 Legato Road, Suite 1100
Fairfax, VA 22033

Send us an E-mail and we will respond as soon as possible. Please use the form at the bottom of the page:

_____________________________________________________________________________________________________
[1]
The Case for Marriage: Why Married People are Happier, Healthier, and Better off Financially, Laura Waite and Maggie Gallagher, Doubleday, 2001
[2]
See for example: "Children Excel When Their Parents Stay Together," Scott Haltzman, Fathers for Good,
http://www.fathersforgood.org/ffg/en/flashitems/involved/excel.html
; "The Impact of Marriage and Divorce on Children," Patrick Fagan, Testimony before the U.S. Senate, May 13, 2004,
http://www.heritage.org/Research/Testimony/The-Impact-of-Marriage-and-Divorce-on-Children
; "The State of Our Unions 2009," National Marriage Project, U.Va. and The Institute for American Values,
http://www.virginia.edu/marriageproject/pdfs/Union_11_25_09.pdf
---