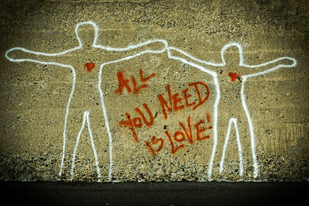 Preparing for Marriage
[1]
We believe it should be harder to get married than it is to get divorced. It's a simple idea that used to be true throughout American Jurisprudence until the 1970's when so-called divorce without fault was enacted. We also believe that most marriage "prep" courses, both secular and faith-based, are woefully inadequate to prepare a couple for all that marriage entails. They do very little to point out potential areas that need advance attention. Far worse, they fail to weed out those marriages that are doomed to failure.
Think of it this way, if you were to unite in a mere business partnership, you would know that there has to be more than just common interests; there also has to be a good deal of groundwork. Love or friendship would not be enough to make a go of a business. Even as a simple business partner, you must plan and be inventive. In commerce, you ready yourself to inspire, while offering respect to your partners, even if they do not always agree with your ideas. Similarly, even in a simple business partnership, there is a need to communicate something of who you are, a sense of your vision, and all the dreams and goals that are important to you. As an intelligent entrepreneur, you would do basic research that leads you to further homework and supplemental training for your business. Unflinchingly, you will make provisions for the hard times, working long hours, and squirreling away reserves for the future. Knowing the twists, turns and surprises of life, you will establish a plan of organization in order to create an ever solid grounding, so that you can establish a support system for the years to come. Above all, you realize that you must prepare yourself for the unexpected. There are mysteries that lie ahead and all great entrepreneurs know that a partnership is not mere science. Thus, fundamental to any business preparation is an examination of the totality of the customer or client. You consider the physical needs as well as the emotional yearnings. You will pursue a deep understanding of what makes your customers "tick." Successful partners know they must respect people and human nature, while bearing in mind the profound mystery that is a part of each unique and unrepeatable human person.
Marriage partnerships are really no different, they are simply far more involved and intimate. They know that marriage takes work, preparation and planning. Mere "sameness" is never the goal of authentic lovers. You know this if you love from the heart. You know that you do not have to marry your clone to have a fruitful and flourishing marriage. No matter how much you share in common with your loved one, you never insist on marrying your carbon copy. You understand that every couple is comprised of two distinctive and irreplaceable people. If you do not know this, then the journey to exploration will be freeing. Rather than celebrating some false sense of of uniformity, ask yourself the hard question:
Can I respect and even celebrate our differences?
A husband and a wife come together not as a "perfect match" based on certain similarities. Rather, they unite in mystery as two incomparable and unrepeatable persons. Form your partnership around a deep and abiding respect for your differences, not merely your likenesses, and then you will find the joy of joyous self-giving as well as unconditional acceptance of your spouse. As you grow in respect for the mystery of love in each person, you strengthen yourself to grow together even on the rockiest of grounds and in the most turbulent times that lie ahead.
Twelve Essential Discussions Before
Marrying
Our Marriage Preparation Program has been formulated after decades of helping wounded spouses try to address issues that should have been addressed long before saying "I do." You do not have to be of the same faith or of the same mind but you do have to examine and know what is important to you. You also must be open to learning about each other with respect and love, so that the other is never afraid to share his or her convictions and ideas, dreams and goals. Agreement is not the goal, nor, surprisingly is understanding. Rather, it is a willingness to open to this person in an unreserved acceptance and to give of yourself to the other in a demonstrative and uninhibited love. If the two of you agree on nothing else, you will still have a beautiful and fulfilling relationship that will lead you to become the best of yourselves.
Marriage Prep 101: Twelve Critical Conversations:
This top-rated "Marriage 101" helps individuals discern if marriage is indeed their vocation and the truest informed decision of their hearts. Next, it provides a forum by which the engaged individuals themselves come to a greater understanding of each other and of the priorities, habits and convictions that impact all marriages. Each chapter's uplifting discussion focuses on new skills to be learned during a process of self-examination and joint sharing. The program provides a process by which specific marital goals are established. A written
"Personal Covenant"
is begun together so that the marriage becomes a living partnership of the whole of life. Core discussion points do not require agreement but must be discussed with grace, courtesy and openness. These topics include:
1) Self-talk
2) Communications with Others
3) Natural Law and Universal Truth
4) Personal Convictions and Ideals
5) Family of Origin Obligations and Issues
6) Friendships with Others
7) Money and Time
8) Sexual Intimacy
9) Chores and Vacations
10) Dreams and Goals
11) Parenthood
12) Virtues and Vices
T hese 12 Chapters can be done with or without a mediator, either in-person or long-distance, or a combination of the two. Each one opens self-directed discussions that are essential to every healthy and intentional marriage preparation. This work takes a minimum of 12 weeks but can be extended depending upon personal and business obligations. Beautiful Gift Certificates are available for the Marriage Preparation Program. Each program offers a loving Wedding Gift that encourages each couple to marry with thought and intention, and to make clear communications a loving and lifetime goal. A primary focus of the Marriage Preparation Program is to help each person understand that:
-
Love alone is never enough for a strong and growing marriage.
-
Marrying out of pity or guilt guarantees a broken relationship.
- A plan to change the other after marriage breaches human freedom and will sabotage intimacy.
-
Differences in convictions may not doom a marriage if explored, shared and anticipated lovingly prior to marrying.
Keep in mind that people are not puzzles to be figured out with scientific accuracy; rather, they are filled with mystery to be explored and cherished throughout all of life's changes. Marriage is meant to be a gift of the entire self, body and spirit. Each spouse is meant to be received by the other without conditions or stipulations. If you are only promising to love
"if"
the other does something, or "provided that" the other does not do something, then statistically your marriage is likely to end in divorce or separation. The good news is that you can learn healthy new habits. Consider if you are really ready to say:
For the rest of my life, I promise to be true to you in good times and in bad, in sickness and in health. I will love, honor and cherish you all the days of my life.
Marriage Enrichment Programs
Enrichment programs are offered to spouses who wish to grow their marriage but who are not having significant problems o issues. Couples whose marriages are in trouble or at risk for divorce must apply instead for a Joint or Individual Marriage Recovery Program. There are two types of Marriage Enrichment Programs:
1) The Marriage Enrichment Self-Retreat Program:
This program is the simplest and shortest and requires only two meetings with a Mediator. Each couple takes a weekend alone together, away from home at a hotel, or at a friend's vacation home, or some location where they will be by themselves in a place of tranquility and rest. After an initial meeting with the Mediator, the couple fills out an intensive information sheet. A program of targeted conversations is then designed for the individual couple to follow while away on the weekend retreat.
2) The Marriage Enrichment and Renewal Program:
This program takes a more intensive approach to the enrichment process and provides a refreshing and directed and humorous approach to a new beginning. It involves weekly sessions with a mediator to examine communication habits that may be blocking a growth in intimacy and friendship and teaches healthy communication skills in arguing, expressing affection, and seeking and understanding or in using humor to provide a respectful "time out" when emotions are running high. The Marriage Enrichment Programs provide a enjoyable, stimulating, and loving way interrupt the busy-ness of life in order to focus on the marriage and the changes that have taken place in the heart and soul of your beloved spouse.
[1]
Many comments within this page are taken, whole or in part, from our soon-to-be-updated book, "Marriage Prep
101: Twelve Keys to a Successful Marriage with Anyone!" (Scheduled for release September 2013
---